Posts Tagged 'magnetic water'
Have you considered the actual role fluids play in your overall well-being?
Asking yourself, how much water to drink daily?
What you drink effects how you feel the rest of the day. Consider what you had to drink yesterday and jot it down. Now, how much water did you have? Most of us are aware that the health experts state we need 8 fluid cups daily to prevent dehydration symptoms but that can include other beverages. However, if you are thirsty right now, that means you are already at a dehydrated state. Being dehydrated causes your metabolism to malfunction and leads to dehydration symptoms, such as being lethargic and not motivated to work, play or workout.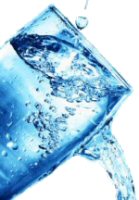 Dehydration Symptoms include:
Headache
Constipation
Fatigue
Irritability
Depression
Weight gain
Water retention
Dry skin
Skin blemishes
Toxicity (in blood)
Bladder infections
Caffeine: Robbing Body of Fluids
Beverages with caffeine such as coffee, ice tea, and soda are not going to help our body with hydration. Caffeine is a diuretic, which means it makes your body flush out fluids. Yes, you go to the bathroom soon after drinking beverages with caffeine. While it is "okay" to drink these beverages, remember they do not help keep you hydrated. To hydrate yourself, it takes 24 hours. Just to drink 16 oz of water when you are thirsty does not bring your body to a state of proper hydration.
Tired? Try drinking water!
If you are thirsty, that means you have lost about 2–3% of your body fluids. Remember your body is 70% water. If your weight is 150 pounds and you are thirsty, that means you lost 3 pound of fluids. Just losing 1–3% of your body weight causes such symptom such as chronic tiredness, headaches, grouchy and hunger that leads us into another area of concern. What do you do when you are tired? Many people eat when they are tired as taught by their mother while very young. If you have children, you may find yourself feeding your cranky child and noticing that they become more reasonable after being feed. Food does provide some needed fluid but not enough. Eating when you are tire may also contribute to unwanted weight gain. So next time you are feeling tired, try drinking water instead.
Your wrists, hands and arms are at serious risk of permanent and irreversible damage — If you have any if these 5 medical conditions
Here's how to reduce or COMPLETELY STOP further damage to your wrists, hands and arms
If you suffer with wrist, hand and arm pain, I am almost certain that you have any of the conditions listed below and you will more than likely be experiencing pain and muscle spasms in your hand and wrist. You may even have shooting pains and pins and needles up your arms.
The 5 medical conditions in question are:
1. Arthritis- osteo and rheumatoid.
2. Carpal tunnel syndrome.
3. Tendonitis.
4. Repetitive strain injury.
5. Dupuytren's.
Announcing the most effective solution that will ensure YOUR
Hands, Wrists and Arms do not suffer further permanent damage
In brief your hands, wrists and arms will almost definitely be feeling sore, swollen, painful or numb because the blood supply in your hands, wrists and arms is not as good as it should be. Your medical condition has reduced the blood supply to the hands, wrists and arms, which causes you to suffer with some or may be all of these symptoms.
Fortunately there is an incredibly simple and easy to use, tried and tested, solution that will almost totally guarantee to rid you of all of the pain, swelling, burning, numbness or pins and needles in your hands, wrists and arms for good. I'm certain that you can achieve these results by using a combination of extra super strength stainless steel magnetic bracelets and by drinking magnetised water.
Many pain sufferers who use magnetic bracelets to treat their wrist, hand and arm pain are asking if they should be using greater strength magnets and if the exposure to higher strength magnets will reduce the damage to their hands, wrists and arms faster and more effectively
The answer is yes but let me be clear: A standard lower strength magnetic bracelet alone will help to reduce the pain, swelling, and burning in your hands, wrists and arms when worn day and night.
BUT if you have quite severe and constant hands, wrists and arms pain super strength magnets have shown to reduce even quite severe pain much quicker.
The truth is, wearing a super strength stainless steel magnetic bracelet and drinking magnetised water is the best therapeutic magnet treatment you can have for your hand, wrist and arm problems. The super strength magnetic bracelet contains between 9-22 x 3,000 gauss magnets (4 times stronger than the standard bracelets) discreetly encased inside an extremely hardwearing and long-lasting surgical stainless steel bracelet.
You will immediately feel the soothing support and begin to feel the total relief in just a few days. Best of all the combination of the super strength 3,000 gauss magnets and drinking magnetised water is the secret key as to why this advanced treatment almost instantly and permanently relieves you of almost all your hand, wrist and arm pain.
Related: "Why Use Neodymium Magnets For Magnetic Therapy Pain Relief" "Do Magnetic Bracelets Really Relieve Pain"